VIERNULVIER Café & Terras
Welcome at VIERNULVIER! Come and enjoy a tasty snack & drink - and the sun - on our Terras (weather permitting) or in our Café.
Enjoy ice-cold craft beers, the most delicious homemade ice tea of Ghent or a tasty cocktail. Hungry? Order our summery dishes or our famous spaghetti. You can discover our adapted menu below. All dishes are made with a lot of love and are also completely LEF (local, ecological, fair-trade).
STUDENTENACTIE
Voor slechts € 10 kunnen studenten van maandag 2 t.e.m. maandag 9 oktober een spaghetti (groot) + een Cristal (25 cl) kopen op vertoon van een geldige studentenkaart.
OPENING HOURS CAFÉ & TERRAS
Monday to Saturday: open from 11:00
public holidays, July & August: open from 12:00
Sunday: closed (exceptionally opened for evening shows on Sundays)
Opening hours Kitchen
Monday to Saturday: 12:00-21:00
daily special: 12:00-15:00 / 18:00-21:00
MENU
A well-stocked menu, brimming with love and LEF. Discover the VIERNULVIER Café menu below.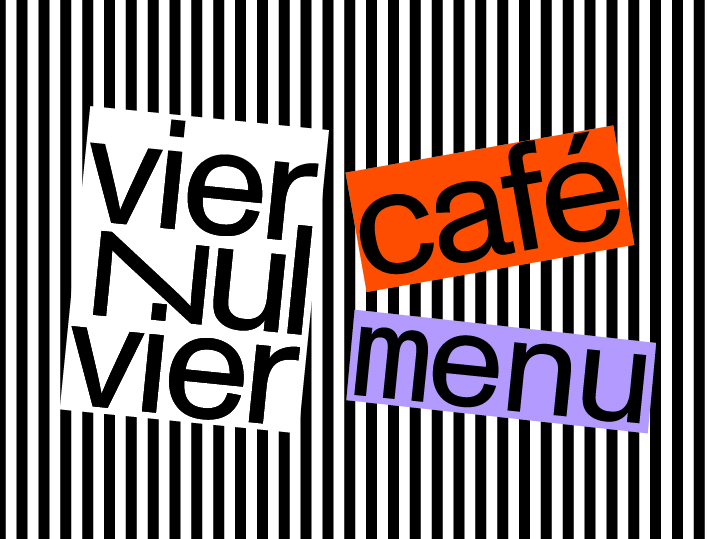 PRACTICAL
We are happy to serve you at the bar
You can study and/or work on your laptop in the Café (including free WiFi and electricity).
We ask you to respect the laptop free zones - which you can recognize by a sticker on the table.
We prefer cashless payment.
The café is wheelchair accessible: At the main entrance (left of the entrance to the Café) you will find an automatic door with a red push button. In the entrance hall you will find a ground-level access to the Café.
On hot summer days, only the Terrace is open (entrance via the stairs in Sint-Pietersnieuwstraat)
ENCHANTÉ
Arts Centre VIERNULVIER is partner of Enchanté, a network of friendly traders and citizens offering small services to anyone in need. 
One of the initiatives is treating someone to a delayed coffee or soup. You pay for it when you order, we keep the receipt and make sure the coffee or soup reaches those who need it. 
You can also do this online: place your order via the online platform Enchanté Café - even easier!
LEF: LOCAL, ECOLOGICAL & FAIR TRADE
At VIERNULVIER Café we serve finger-licking good food and drinks that are LEF: local, ecological and/or fair trade. By working locally, the distance between supplier and visitor remains as short as possible. Ecological stands for a sustainable relationship with the environment. And through fair trade, everyone in the food chain receives a fair price.