RESTAURATIE DE VOORUIT (2020-2035)
Van 2020 tot 2035 vinden in De Vooruit grote restauratiewerken plaats. De werken duren dus 15 jaar (!) en verlopen in vijf fasen van telkens maximum drie jaar. Het totale kostenplaatje bedraagt bijna 16 miljoen euro. Al die tijd blijft De Vooruit toegankelijk - één van de noodzakelijke vereisten vanuit de overheid - en is de hinder voor het publiek beperkt.
De Vlaamse overheid voorziet 10,855 miljoen euro voor de werken, verdeeld over vijf erfgoedpremies. Dat bedrag werd toegekend in het kader van een Meerjarenpremieovereenkomst voor de restauratie van het Feestlokaal van Vooruit, in december 2017 goedgekeurd door de Vlaamse regering. Kunstencentrum VIERNULVIER staat zelf in voor 1,75 miljoen euro.
De eerste fase loopt tot eind 2021, waarin de prioritaire herstellingswerken worden aangepakt. Daarnaast doen we enkele duurzame en energiebesparende ingrepen (een betere dakisolatie en dubbel glas), verbeteren we de toegankelijkheid, realiseren we de Majolica-keuken, verbouwen we het Café én keuken, en richten we de loges van de Theaterzaal opnieuw in.
Daarna volgen nog vier restauratiefases. De tweede fase van de werken is gepland in 2021-2024, en gaat hoofdzakelijk om restauraties aan de achterbouw. In 2026-2027 start fase drie, met een focus op alle bijgebouwen. Fase vier is voorzien in 2029-2030. De laatste fase is dan voorzien in 2032-2032 en omvat vooral interieurrestauratie.
De restauratiewerken in het kader van de Meerjarenpremieovereenkomst worden mede mogelijk gemaakt dankzij de steun van de Vlaamse Overheid - Agentschap Onroerend Erfgoed. Architectenbureau Arch & Teco stond in voor het ontwerp.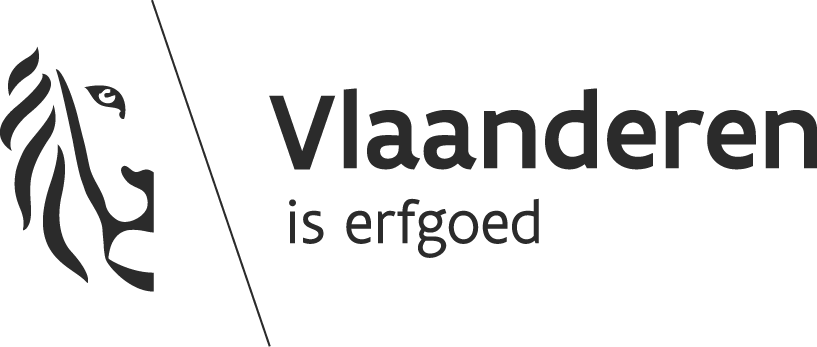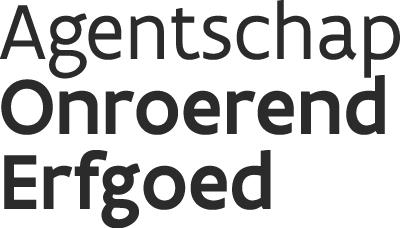 Architect Leen Bruggeman van het architecten bureau Arch & Teco begeleidt die nieuwe restauratiefase. Hieronder vertelt Leen welke werken er de komende vijftien jaar op til staan. Daarbij worden vooral de daken, gevels en het interieur onder handen genomen.
Eerste fase (2020-2021): prioritaire herstellingswerken
In de eerste fase van de restauratiewerken gaat het om de meest prioritaire werken, verspreid over het hele gebouw van De Vooruit. Zo stutten we de achtergevel aan de Scheldekaai en herstellen we de unieke zuidtoren op de voorgevel in de Sint-Pietersnieuwstraat. De keuken verhuist van het VIERNULVIER Café naar de vernieuwde Majolicazaal.
"De aannemer stabiliseert de 40 meter hoge achterbouw, waar de Concertzaal zich bevindt. De aannemer boort funderingspalen in de grond tot 10 meter diep. Voorts wordt er onder andere betonrot aangepakt, worden verschillende daken waterdicht gemaakt en zijn vochtwerende ingrepen voorzien. Binnen in het gebouw worden binnendeuren hersteld, komt er een nieuwe vloer in de Concertzaal en wordt de trappenhal in de voorbouw gerestaureerd."
Kunstencentrum VIERNULVIER kreeg in 2020 ook een investeringssubsidie van het Fonds Culturele Infrastructuur (FoCI) om De Vooruit energiezuiniger te maken. Daarbij wordt de komende jaren geïnvesteerd in o.a. een betere ventilatie en een duurzamer lichtpark.
A new look for Vooruit
In previous phases we built the Vooruit Terrace and the bike shelter next to the Café (2012-2013), future-proofed the Concertzaal and entrance area (2015) and gave the former COOP supermarket – renamed to the Groene Coop – a new function as a workspace for all ancillary services (2014-2015). This last phase, which began in 2017, won't go by unnoticed, either. We'll be tackling some key areas.
A new entrance area
Vooruit is a hive of activity: over 350,00 visitors pass through its doors every year, suppliers deliver and collect goods every week, and theatre companies move in and out with their productions. For us it's important that everyone continues to feel welcome at Vooruit, and that as a visitor you can find your way around without difficulty. It's also crucial that our suppliers, artists and employees can work in a safe and unhindered manner.
So, what are the specific plans for the entrance area? First and foremost, the space will be made much wider, larger and more pleasant to be in. The ticket desk is also receiving a serious makeover, with a mind to improving the quality of service even more. Finally, the former candy store to the left of Vooruit will be incorporated in the refurbished entrance area. This space will also be home to a number of new studios for artists.
New studios for residents
Over the years Vooruit has given many artists and companies a peaceful place in which to tinker on new projects. Now, with the renovations, we are responding to a cry from the artistic field for more maker's studios for residencies.
On the ground floor and first floor we are building an Open Atelier and new studios. This will allow Vooruit to continue to provide artists with proper support. The Candy Store will become an integral part of these new residency spaces, with a number of brand-new studios being the crowning achievement. The spaces will be utilised in a flexible manner for a diverse range of activities: as development and rehearsal spaces for artists, as exhibition spaces and as locations for workshops.
More technical storage space
Vooruit has a rich artistic history and has now started giving an increasing number of large productions space both on and off our stages. All these productions also demand a considerable degree of technical support. There is an urgent need for new storage space in order to ensure the careful handling of equipment. During these renovations we will therefore create a number of new technical storage spaces that meet today's safety standards. In this way, employees, suppliers and theatre companies can work even more safely and smoothly.
Nieuwe trekkenwand in de Theaterzaal
De podiumtechnische hijsinstallatie op de scène van de Theaterzaal werd in de zomer van 2018 volledig geautomatiseerd. Voor de technische ploeg betekent de nieuwe trekkenwand - de machinerie die ervoor zorgt dat decor of belichting boven de scène kan gehangen worden - een fantastische stap voorwaarts. De wand is veel veiliger en makkelijker te besturen dan de oude.
De installatie bestaat uit 43 trekken boven de scène, twee zijtrekken en twee trekken boven de voorscène. Elke trek kreeg een aparte motor. Elke 25 cm is een trek voorzien. De trekken kunnen een heflast van 300 kg aan, de snelheid per trek werd gelimiteerd op 1,2m/s.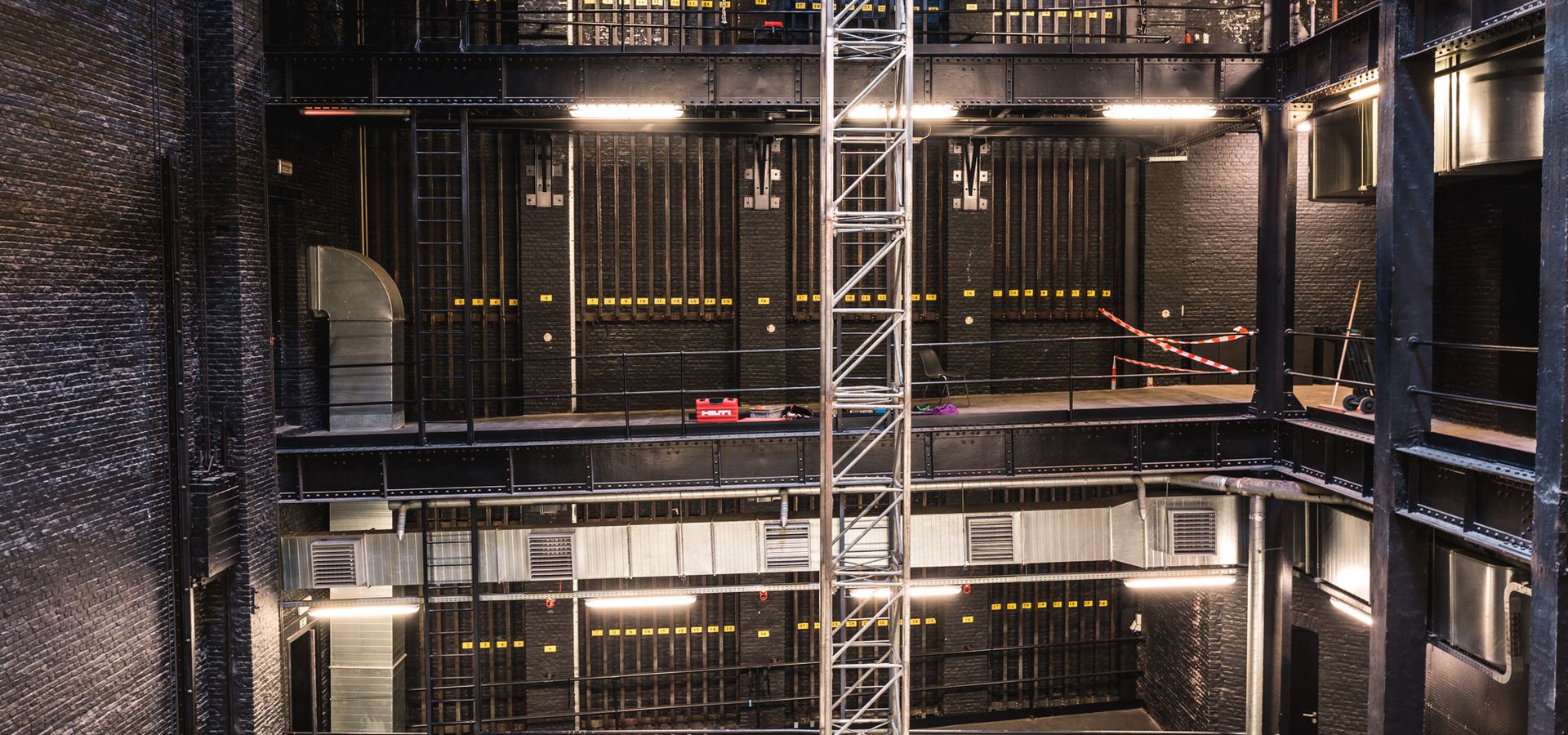 A more sustainable Vooruit
It's no secret that sustainability is high on our agenda at Vooruit. That's why during these renovations we have opted for eco-friendly solutions that limit our CO2 footprint.
What are we doing, exactly?
We're opting for LED lighting everywhere.
Once renovated, the Candy Store will be a nearly zero-energy building (NZEB). The main façade and the façade of the Candy Store will serve as a climate-control buffer. We'll use the sun as a boiler to heat up the air and distribute it throughout the Candy Store. The eco-friendly façades in turn serve to purify the air.
In the basement we will once again install a rainwater reservoir and use this water for flushing the toilets and filling the eco-friendly façades of the Candy Store.
We will divide up the building more logically, too: all facilities for artists will be located at the front of the building.
Would you like to know more about our renovation plans? We'll be happy to share the latest updates with you via this page, email newsletters and social media. If you have any questions or comments for us, please get in contact by sending an email to verbouwen@vooruit.be or just drop by. 
Vooruit's Renovation Masterplan has been made possible thanks in part to the Flemish Government's Cultural Infrastructure Fund and the City of Ghent, and was designed by Dial Architects / Geert Pauwels.